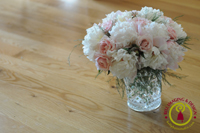 I'm fortunate to live on a lovely 1 1/2 acres of rural land in Hermon. The former owners planted a beautiful peony bush. It blooms every year with gorgeous white and slightly pink blooms. This year, I decided to cut the blooms off to create beautiful DIY arrangements for the house and my desk at the Bangor Daily News.
I stopped into Chapel Hill Floral, my local florist, on my way home recently. I picked up some spray roses and greenery to accent my DIY arrangements. I could have purchased the same arrangement, but I enjoy doing some floral designs on my own. There's always a time & place to DIY it. Your treasured family photos, special event photos, and wedding photos are not a place to be a DIY diva.
Why you might ask?
Uncle Joe just got an amazing new camera. It looks just like the ones a pro uses. He can take the photos for cheap and burn them on a DVD. Then, we can do whatever with them. Best of all, they cost a fraction of what a professional photographer charges.
This blog post is the first of a series that focuses on the benefits of a professional photographer and how to go from placing focus on cost to placing value on the product.
Why Not to DIY…
Weddings
Let's step away from the fact that I'm a professional photographer for just a moment. I'm going to talk to you as your friend. Let's talk about wedding photography first.
Weddings are expensive. That's kind of a "duh" statement, isn't it? They're probably the most expensive party you'll ever throw while you're alive.
There are lots of components to the party:
Food
Location
Flowers
Décor
Photography
Music
Attire
Entertainment
And more
So, where to place value?
It starts with understanding the nature of the beast. You're getting married. It'll be one of the major moments in both your life and in the lives of your family. Often, it's one of the few times all family members are present and happy.
The right wedding photographer ensures that the first chapter of your family history is documented fully and painlessly. When you leave events like this in the hands of well-meaning folks, sometimes bad things happen. Bad lighting, no backups, and not adapting to a situation quickly only hinder your photographer, unless you prepare.
Sometimes, it includes disrespect by family. I've been there and done that. For longer than I can remember, I've been the family photographer. It's stressful and time-consuming.
It prevents you from having a good time with your husband or visiting family you only see at weddings, funerals, and the occasional birthday party. It requires you to take on the tremendous responsibility of making sure everything is done right.
Here's The Truth
Weddings are stressful. They're fast-moving and require an even temper. When you allow your well-meaning family or friends to capture the moments, you ask them to essentially step into the line of fire to produce results that follow you throughout your married life. What happens if they back down at the last minute?
The biggest reason NOT to DIY your wedding photography?
These are YOUR memories and YOUR family. In the same way that you place value in your dress, food, and rings, your photos are perhaps one of the only things that remain with you for your entire marriage.
How do you wade through the forest of photographers?
There are myriad photographers to choose from when it comes to your wedding. From $500 all-inclusive packages, to $5,000+ wedding packages, it can be confusing and overwhelming. Again, been there, done that.
I remember planning my own wedding. There were fewer photographer websites than there are now and certainly no Facebook. It's not all about the cost of wedding photography. While cost is important, you can find a way to make a quality wedding photographer work within your budget.
Experience
The best tool in your wedding day arsenal is a photographer you "click" with who has experience. That includes experience with the venue, working with couples, and the wedding day timeline. They should be prepared to handle challenges as they arise with lighting and requirements by the venue.
Bell Imaging & Design has been part of more than 50 weddings. We have traveled all over the state to document Big Days! DIYers have varying degrees of experience. Before hiring a family member or friend, ask to see a wide array of photos to ensure they're prepared for this type of job.
Insurance & Backups
Choose a wedding photographer with insurance, including liability. Bell Imaging & Design is fully insured. We are a member of the Professional Photographers of America (PPA) and Wedding & Portrait Photographers International (WPPI).
DIYers likely do not have the proper amount of insurance necessary to protect you, the venue, or your guests. They may not have the appropriate types of backup equipment necessary to ensure that if something goes wrong your images will be safe. An insured photographer is serious about their business.
Inclusives & Products
Your wedding photographer should offer more than just prints. They should offer albums, unique products, canvas wraps, and other items you feel are important. Ask to see samples before hiring a pro.
Don't just assume that you'll make your own album. I've been married for 10 years this year. I still haven't gotten around to making my own wedding album.
Bell Imaging & Design offers a variety of products including prints, canvas prints, albums, ornaments, and cards. DIYers may not be able to offer you these types of options which means extra time and energy placed on your shoulders.
Digital Images
Many photographers offer digital images as part of the wedding photography package. Most wedding photographers do not sign away copyright. You will likely receive a reprint license that details how you can use the images. A good photographer does not release images that have not been edited.
Bell Imaging & Design offers digital images as part of the wedding package. It's important to me that you have a digital record in addition to a print record of your Big Day. The digital images come with a reprint license allowing for PERSONAL use only.
DIYers likely offer a whole disk of all images, but they do not take the time to edit the images to make them look their best. Think about if you REALLY have the time and experience to make the images look their best.
Networked Pros
Quality wedding photographers are well connected. They can offer quality referrals for couples to help them with vendor choices. A well-connected photographer benefits their couple.
Bell Imaging & Design is a Member of:
The Bangor Region Chamber of Commerce
The Paul Bunyan Chapter of BNI
Tuesday Forum
We are a preferred vendor at:
The Lucerne Inn
Atlantic Oakes
The Sea Dog Brewing Company
Debra Bell delights in helping couples choose quality vendors for their Big Day. DIYers may not have access to or experience with the different vendors to make your Big Day a delight.
Think Long & Hard…
If you have concerns about price, talk with your photographer about your needs and find out what their recommendation is. Understand that pros have experience. There's likely a reason why their price may be higher than another photographer.
Always remember that it's important to look at the big picture when considering wedding photography. Don't go on price alone. Go on ultimate value.