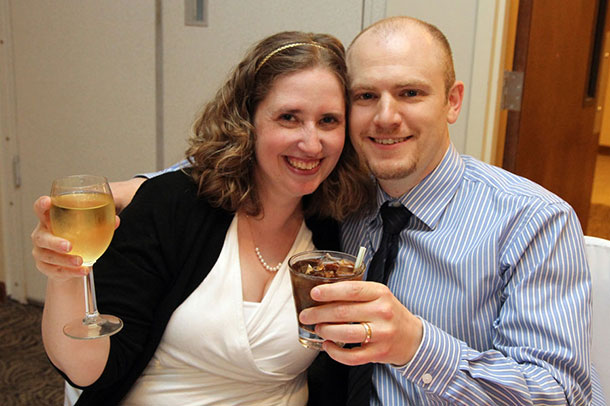 This past Friday, I had the extreme pleasure of putting the camera down and being fully present at a family wedding. As a wedding photographer, I have not been a guest, truly a guest, at a wedding since before I started my business.
That's 10 years and more than 70 weddings behind the lens in some way, shape, or form! It was glorious! I want to share my experience of being fully present with you in hopes that you choose to adopt some "present" policies at your own wedding or one you're going to.
I made a choice for this wedding to not bring my pro gear into the celebration. Not only did I not have to think about shutter speeds, apertures, or memory cards and batteries, I didn't have to be saddled with thinking about taking photos. I left my point and shoot at the hotel. I left my phone in the car. Although, the BIG camera was in the trunk.
What I did do was hug family members, enjoy some popcorn before the ceremony started, and visit with those around me. When the time came for the processional, I could watch and enjoy the moment of a couple joining their lives together. I got to notice the details, hear the words spoken, and feel the love in the air.
Ditto for The Reception!
I did slightly kick myself for forgetting the point and shoot, but I knew that Jeremy and Krista hired awesome photographers. I knew they would share the photos when they were ready. Those details, which I COULD have shot, were photographed by the people there to create awesome photos that the whole family would enjoy.
I danced fast. I slow danced with my husband. We visited with family. We watched two young people begin their lives together.
We celebrated their relationship. We watched the "formalities" and laughed at silly moments. We were being fully present.
This is the gift you should want to give your guests. Scratch that! This is the gift you should INSIST on giving your guests.
There's been a lot of talk lately about "unplugged" weddings. These weddings, whether the whole day or just the ceremony, enable guests to enjoy the same experience I had. Tell them that you have hired professionals doing a very important job and that you PROMISE to share the images with them.
Why is that important?
When you concentrate on your technology, you miss the meaning behind everything. You miss focusing on the words, songs, and formalities. You miss it because of the desire to "DOCUMENT."
If you truly want your guests to enjoy the party, plan for some "unplugged" moments. Insist that they put down the camera and enjoy the show. After all, how can you find meaning in the moment while staring at a screen?
Tell your family…
Join us and celebrate. We take care of the documentation.