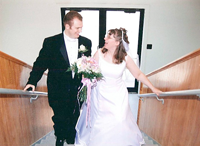 In precisely 17 days, my husband Bill and I will celebrate our 10th wedding anniversary. And it's been an amazing 10 years so far. Lots of joy and happiness, a bit of sadness and some heartbreak, and a whole lot of fun! We've bought two houses, sold one, both entered into jobs we are good at and passionate about, and adopted two wonderful animals: Laura and Olivia.
I found our scrapbook the other day while clearing out one of our downstairs room. What memories it brought back. We planned our wedding for less than $4,000! And it was a glorious day. However, I wish I had put more thought and appreciation into our wedding vendors. I know so much more now than I knew then. And so I get where brides who are planning are coming from.
Here are 3 of the things I learned. More to come as the month progresses.
Lesson 1: RECORD the ceremony (at the very least). We didn't do a video. We had some family with camcorders which produced OK results. However, we had a wonderful string quartet perform, but their music now sounds like an old timey record. While we have our ceremony filmed, there's no video proof of our reception. And I don't recall a lot of the reception. BRIDES: Your wedding day goes by WAY too fast.
Lesson 2: Understand what will happen if you don't give yourself enough time for photos. I hadn't started shooting weddings when we got married. We were smart enough to have some of the formals done ahead of time (the guys and my husband's immediate family). However, we were rushing to get through the rest of the photos to get to the reception. The photographer we chose was more "formal" than "documentary." I wish I had a photographer like me when I got married. We have several good photos of us together, but my FAVORITE was one that was captured on our way to the reception. We had to catch up with photos at the reception. Needless to say, as much as I planned, we were still a bit stressed about this part of our day. We'll talk soon about albums and my experience.
Lesson 3: Put your money where it matters. Did we really need the imprinted cake napkins? Did we really need to do pencils for favors? Probably not, but it was the thought that counted. We also did many things that were expected (like those darn cake napkins) that didn't really matter. And when money's tight, really concentrating on where the money goes is important. So always ask yourself… do I REALLY need it?
Ultimately, I wouldn't give it up for the world. And I'd marry him all over again.